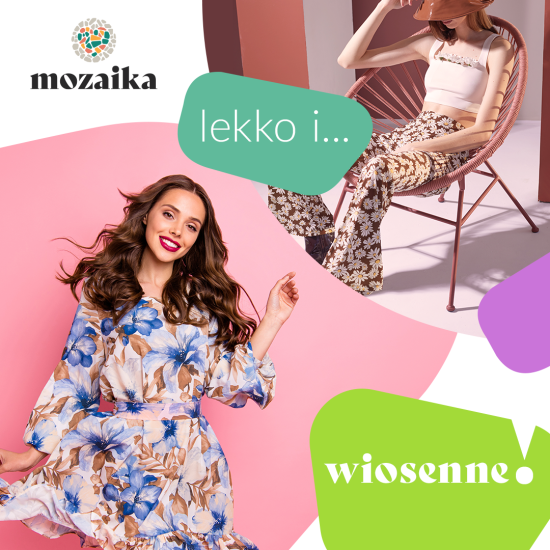 WIOSENNE PRZEBUDZENIE W SZAFACH I WNĘTRZACH
Wiosna to najlepszy czas na zmiany. Mamy ochotę odświeżać wnętrza naszych domów i chętnie kupujemy ciuchy z nowych kolekcji.
Projektanci tej wiosny postawili na świeżość, lekkość i kolorowy zawrót głowy. Modne będą barwy natury w połączeniu z paleta pasteli jak i tych bardziej odważnych barw. Sprawdźcie w naszych sklepach propozycje na odświeżenie Waszych szaf. Zapraszamy do sklepów: Deichmann, Butik, Fashion Men, Monnari i 4F.
Dekoratorzy wnętrz także namawiają do tego, by wpuścić do pomieszczeń promienie słoneczne. Proponują dużo bieli i również pastelowe kolory, szczególnie stawiają na żółć, zieleń, pomarańczowy i pudrowy róż. Znajdziecie też dodatki złota i srebra, bo to one najlepiej odbijają wiosenne promienie słońca wpadające do wnętrz. Tymczasem nawet niewielkie zmiany w salonie, kuchni czy postawienie nowych ozdób na stole w jadalni mogą wiele zmienić. Jeżeli zamierzacie oczyścić przestrzeń z opatrzonych już elementów i zamienić je na inspirujące dodatki to zapraszamy do sklepów: Action, Kauland i do Rossmana.
Zapraszamy do MOZAIKI na wiosenne zakupy!